PROGRAM
©Julian Mommert

©Julian Mommert

©Julian Mommert

©Julian Mommert

©Julian Mommert
The Greek choreographer Dimitris Papaioannou brings his latest work to Japan, marking his return for the first time since the success of THE GREAT TAMER in 2019.
Dimitris Papaioannou has achieved world renown for his work as director of the opening and closing ceremonies of the Athens Olympics, and as the first guest choreographer for the Tanztheater Wuppertal company following the death of Pina Bausch. Almost three years after his great success with THE GREAT TAMER at ROHM Theatre Kyoto in July 2019, Papaioannou returns to Japan with his latest work, TRANSVERSE ORIENTATION, which premiered in 2021. It has been reviewed that this performance, as its title suggests, portrays the human compulsion to find meaning in life as a parallel to the natural behavior of moths to instinctively seek out light. This staggering visual feast unfolds as a series of scenes packed with humor and conjuring up vivid images. Intermixing mythology and art, Dimitris Papaioannou's unique worldview is a must-see.
Information
2022.8.10 (WED) – 8.11 (THR)
Wednesday 10 August 2022 (7 pm)
Thursday 11 August 2022 (2 pm)★
★Post-performance talk by Dimitris Papaioannou (with English-Japanese interpretation)
Venue : South Hall
About
Conceived, Visualized, and Directed by Dimitris Papaioannou
Profile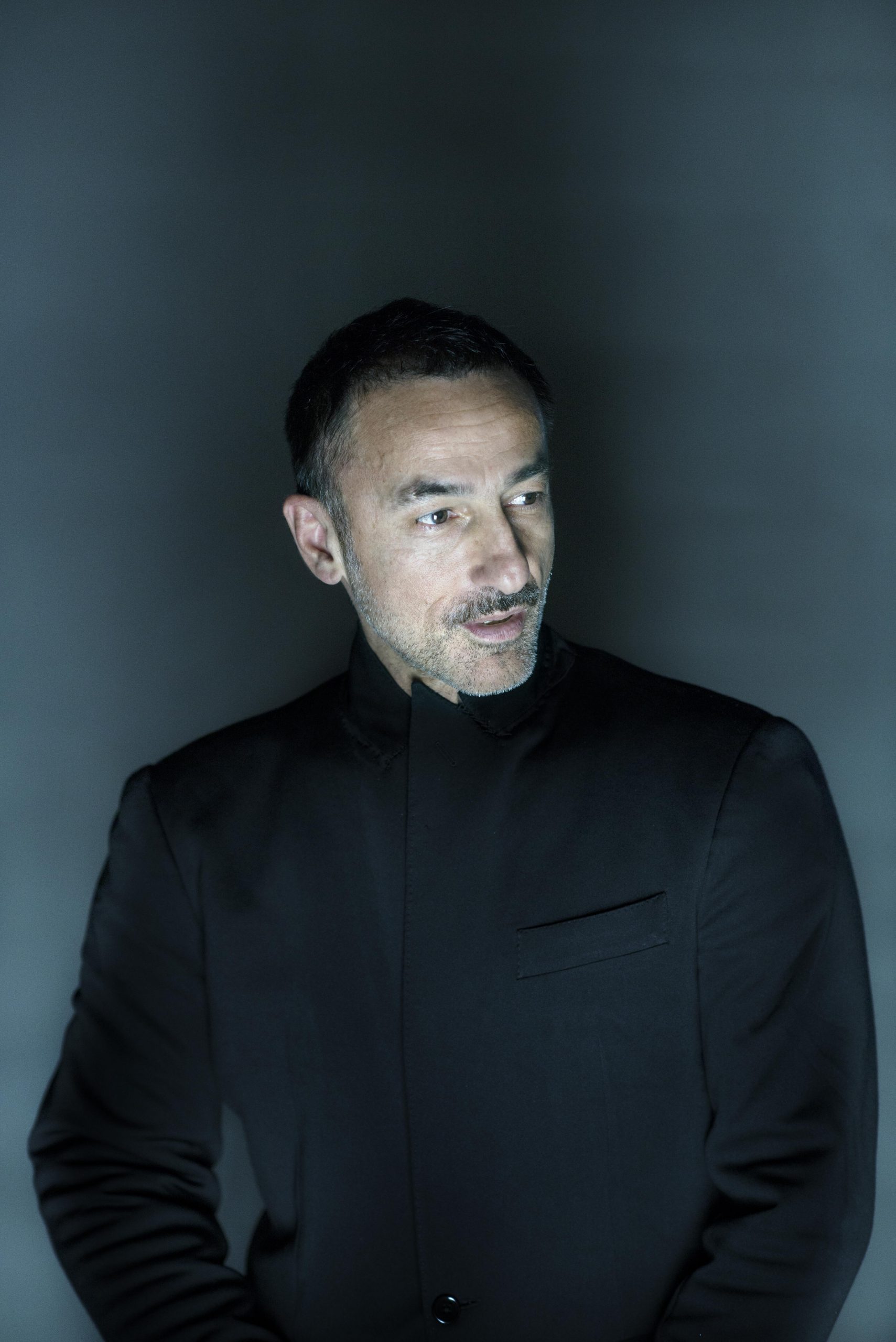 ©Julian Mommert
Dimitris Papaioannou
Born in Athens in 1964, Dimitris Papaioannou was a student of the iconic Greek painter Yannis Tsarouchis before studying at the Athens School of Fine Arts. He gained early recognition as a painter and comics artist, before his focus shifted to the performing arts. After studying dance in New York, he formed Edafos Dance Theatre in 1986 as an initial vehicle for his original stage productions, hybrids of physical theatre, experimental dance, and performance art. Papaioannou became widely known in 2004, as the creator of the Opening and Closing Ceremonies of the ATHENS 2004 Olympic Games. He then created NOWHERE (2009) for the inauguration of the renovated Greek National Theatre, INSIDE (2011) for the Pallas Theater, PRIMAL MATTER (2012) for the Athens Festival, STILL LIFE (2014), the first work that toured extensively around the world, and the Opening Ceremony for the Baku 2015 First European Games. In 2017, he created THE GREAT TAMER, which in 2019 became his first work to be presented in Japan. In 2018, Dimitris became the first artist to create a new, full-length work for Tanztheater Wuppertal Pina Bausch after the death of its founder. In 2020, Dimitris created and performed a duet piece INK. His latest work TRANSVERSE ORIENTATION (2021) premiered in June 2021 and was nominated for this year's Laurence Olivier Award. It is now on tour to more than 30 countries.
Presented by ROHM Theatre Kyoto (Kyoto City Music Art Cultural Promoting Foundation), Kyoto City
Co-produced by ROHM Theatre Kyoto, Saitama Arts Theater, etc.
Supported by Dance Reflections by Van Cleef & Arpels, the Agency for Cultural Affairs, Government of Japan in the fiscal 2022|Japan Arts Council
Nomimal support by Embassy of Greece in Japan
Support for the performance in Kyoto by The Kyoto Shimbun
Contact
ROHM Theater Kyoto Ticket Counter TEL:075-746-3201
Tickets
Ticket Prices
1F: ¥6,000 / 2F: ¥5,000 / 25 and Under: ¥3,000 / 18 and Under: ¥1,000
*No admission permitted for pre-school children. Audiences under the age of 12 should be accompanied by a parent or adult guardian.
Pre-release
2022.6.4 (SAT)

Tickets on Sale
2022.6.11 (SAT)

Tickets Available from
ROHM Theatre Kyoto Box Office

[窓口・電話 TEL.075-746-3201(10:00~17:00、年中無休 ※臨時休館日等により変更の場合あり)]

Kyoto Concert Hall Box Office

[TEL.075-711-3231 (10:00~17:00 closed on the 1st and the 3rd Mondays, and the following Tuesday in case 1st or 3rd Monday is a national holiday) ]
Babysitting Services
Please refer to the application guide below and make a reservation via email or phone call.
Subcontractor: WITH GROUP Kyoto office (a member of ALL JAPAN CHILDCARE SERVICES ASSOCIATION)
Available dates: Thursday 11 August 2022 from 1:30PM to 15 minutes after the performance.
Deadline: Thursday, 4th August 2022 *Phone calls are accepted until 6PM.
*The capacity is limited due to the space. Please note that applications will be closed as soon as capacity is reached.
Age range: 3 months ~ preschool
Fee: \1,000 per child and performance
*Please pay the fee at the venue for childcare on the day of the performance
*Please contact us for cancellation.
*Please note that the fee will be charged even in the case of cancellation.
Email: please send an email to [kyoto-office☆with-g.com] (please change ☆ to @)
Subject: Reservation for childcare service. Date @ROHM Theatre Kyoto
Main text: Parent's/Guardian's name, Emergency contact (Phone number), Child's/Children's name, Sex and age (Please write years and months), Dates and time
Other precautions, if any, such as allergies and health conditions
Phone: 0120-470-077 (toll free) or 075-343-6787
We will ask the same information above.
*Please be sure to let us know in advance about any concerns you may have about your child's/children's condition in group childcare, especially about allergies, diagnosis, etc.