PROGRAM
Illustration: Yuki Kaknife

Photo: Toshiaki Nakatani
Directing his first play in Kyoto in 10 years, Masataka Matsuda's story about his hometown of Nagasaki joins the ROHM Theatre Kyoto repertoire.
Launched in 2017, the ROHM Theatre Kyoto Repertory Premiere program strives to create a repertoire of work for the theatre that will continue to be performed in years to come For the fourth production, the program has commissioned the playwright and director Masataka Matsuda, who was previously based for many years in Kyoto, to write a new play for the repertoire. Having searched for new ways of making theatre with his own group, marebito theater company, and recently staged many works highly experimental in form, he here turns to his hometown of Nagasaki to write a long-awaited new play. Building on his efforts actively training and collaborating with the next generation, the casting for the play will be decided through holding auditions in an effort to discover fresh talent. The creative process will also be made public to share the progress of the play as it is made, conveying to audiences the significance and appeal of creating something in a theatre.
About
Written and Directed by Masataka Matsuda
Cast: Satoshi Ikuzane, Michiyoshi Suzuka, Kao Daimon, Yasunobu Tanabe, Shiho Fukasawa, Ryohei Yokota
Assistant Director: Hirotaka Fukui
Synopsis
In a seaside town in the west of Japan, a man starts to live in an empty house. Unemployed and with nowhere else to go, Shinji has come back to his hometown. But in this decaying provincial town, a banal kind of fascism runs rampant. Though bewildered, Shinji grows familiar with this, and then becomes entangled by community and family ties. Amid his daily life, "some kind of sign" always appears, warning him of an incident waiting to happen.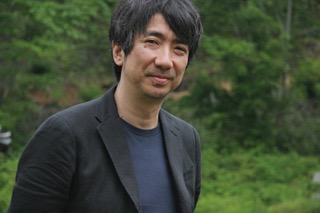 Masataka Matsuda
Playwright, Director, head of marebito theater company
Born in Nagasaki Prefecture in 1962. He has received the Kishida Drama Award for Sea and Parasol in 1996, the Yomiuri Drama Award for Moon Cape in 1997, and the Yomiuri Literary Prize for Over Summer Sands in 1999. In 2003, he formed marebito theater company. The company's principal works include Performing Fukushima, presented as part of Festival/Tokyo 2018. Since 2012, he is a professor at Rikkyo University's College of Contemporary Psychology Body Expression and Cinematic Arts course. He was an instructor for the theatre course at ROHM Theatre Kyoto's Theatre School Project.
Repertory Premiere
ROHM Theatre Kyoto launched this program in 2017 to create new theatre productions that can serve as part of a repertoire that will be staged long into the future. Through the process of creating new productions, it also organizes related programs for audience development and training actors, dramaturges, producers, and other specialists. In this way, the program aspires to build a new theatre culture in each community and region.
A ROHM Theatre Kyoto production
Presented by ROHM Theatre Kyoto (Kyoto City Music Art Cultural Promoting Foundation), Kyoto City
Supported by the Agency for Cultural Affairs in fiscal 2020 (TBC)
Contact
ROHM Theatre Kyoto  TEL:075-746-3201
Tickets
Ticket Prices
¥3,500 25 and Under: ¥2,000 High School and Under: ¥1,000
Tickets on Sale
2020.9.19 (SAT)

Tickets Available from
ROHM Theatre Kyoto Box Office

[窓口・電話 TEL.075-746-3201(10:00~17:00、年中無休 ※臨時休館日等により変更の場合あり)]

Kyoto Concert Hall Box Office

[TEL.075-711-3231 (10:00~17:00 closed on the 1st and the 3rd Mondays, and the following Tuesday in case 1st or 3rd Monday is a national holiday) ]