PROGRAM
2021.12.06|
This performance was originally scheduled on Friday 3rd and Saturday 4th December 2021 and has been postponed due to the world-wide spread of COVID-19.
© Hideto Maezawa
Tradition and Innovation – Searching for "No. 60" in the forms of Thai classical dance

Pichet Klunchun has received training in Thai classical dance "Khon" since his childhood and has been trying to connect the language of Khon with contemporary sensibilities. In this work No.60, he examines and analyses 59 poses and movements in the Theppanom canon of Khon and, towards the next generation, attempts to find the new form that is "No.60".
Please come and witness this performance where tradition and innovation intersect.

* Due to the entry restrictions into Japan as part of the government's measures against COVID-19, there may be changes in the contents of the programme.
Information
2022.3.26 (SAT) – 3.27 (SUN)
Saturday 26 March 2022 (7 pm)★
Sunday 27 March 2022 (2 pm) ★Post-performance talk by Pichet Klunchun (with English-Japanese interpretation)
Venue : South Hall
About
Artistic director, choreographer & dancer: Pichet Klunchun
Dancer: Kornkarn Rungsawang
CG artist: Jaturakorn Pinpech
Music / sound designer: Zai Tang
Lighting designer: Jui Hsuan Tseng
Dramaturge: Tang Fu Kuen
Producer / company manager: Sojirat Singholka
Production manager: Cindy Yeong
Commissioned and co-produced by Esplanade – Theatres on the Bay, Singapore
Co-produced by TPAM – Performing Arts Meeting in Yokohama and Taipei Performing Arts Center
Premiered at TPAM – Performing Arts Meeting in Yokohama 2020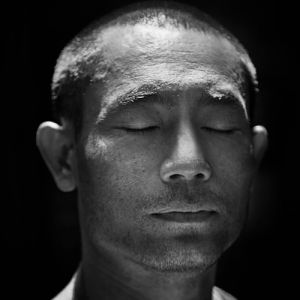 Photo by Chanathip Keawsuk for DONT magazine
Pichet Klunchun
Pichet Klunchun bridges traditional Thai classical dance language with contemporary sensibility, while keeping the heart and wisdom of the convention. Pichet has earned domestic notoriety for his efforts in contemporising Khon and participated in international performing arts festivals in North America, Asia and Europe. He founded Pichet Klunchun Dance Company in order to create pure art performance and to train young-blood professional dancers with strong Thai classical dance backgrounds. In Kyoto, he has performed About Khon as part of KYOTO EXPERIMENT 2010.
Notes related to COVID-19
Please follow ROHM Theatre Kyoto's basic rules on measures against COVID-19.
Here(Japanese Only)
Related Event
Related Event: Pichet Klunchun Dance Company Workshop
Date: Monday 28 march 2022,  start at 7pm
Venue: ROHM Theatre Kyoto
Contact
ROHM Theatre Kyoto Box Office TEL: 075-746-3201
Tickets
Ticket Prices
Reserved seating
¥3,500 / 25 and Under: ¥2,000 / 18 and Under: ¥1,000
* Proof of age is required for the holders of youth and 18-and-under tickets.
* No admission permitted for pre-school children. Please scroll down to the bottom of this page for the information on babysitting services.

Pre-release
2022.1.20 (THR)
10:00~
Tickets on Sale
2022.1.27 (THR)
10:00~
Tickets Available from
ROHM Theatre Kyoto Box Office

[窓口・電話 TEL.075-746-3201(10:00~17:00、年中無休 ※臨時休館日等により変更の場合あり)]

Kyoto Concert Hall Box Office

[TEL.075-711-3231 (10:00~17:00 closed on the 1st and the 3rd Mondays, and the following Tuesday in case 1st or 3rd Monday is a national holiday) ]
Babysitting Services
Please refer to the application guide below and make a reservation via email or phone call.
Subcontractor: WITH GROUP Kyoto office (a member of ALL JAPAN CHILDCARE SERVICES ASSOCIATION)
Available dates: Sunday, 27 March 2022 from 1:30PM to 15 minutes after the performance.
Deadline:Sunday, 20 March 2022 *Accepted via email, and phone calls are accepted until 6PM on Saturday, 19 March 2022.
*The capacity is limited due to the space. Please note that applications will be closed as soon as capacity is reached.
Age range: 3 months ~ preschool
Fee: \1,000 per child and performance
*Please pay the fee at the venue for childcare on the day of the performance
*Please contact us for cancellation.
*Please note that the fee will be charged even in the case of cancellation.
Email: please send an email to [kyoto-office☆with-g.com] (please change ☆ to @)
Subject: Reservation for childcare service. Sunday, 27 March 2022 @ROHM Theatre Kyoto
Main text: Parent's/Guardian's name, Emergency contact (Phone number), Child's/Children's name, Sex and age (Please write years and months)
Other precautions, if any, such as allergies and health conditions
Phone: 0120-470-077 (toll free) or 075-343-6787
We will ask the same information above.
*Please be sure to let us know in advance about any concerns you may have about your child's/children's condition in group childcare, especially about allergies, diagnosis, etc.