PROGRAM
From the Czech Republic, a country renowned for its puppet theatre, comes a company with a long history and a show perfect for kids during the summer holidays!
This performance was postponed from 2020. The latest creation by top contemporary Czech puppetry artist Tomáš Dvořák is a retelling of the internationally famed Mexican legend of Zorro by classical Czech marionettes and master musicians in the style of mariachi (Mexican folk musicians). The result is a fast-paced, funny, and at times satirical performance that unfolds to the fun rhythms of live music and whose thrilling stage design invites audiences into the world of Zorro.
Information
2021.8.8 (SUN)
Sunday 8 August 2021 (11 am, 3 pm)
Venue : North Hall
About
Storyline
Zorro, a true gentleman who confounds the powerful and rescues the weak. Look for his symbol, the "Z" that he leaves behind after he has gone! One day, the beautiful young woman Isabella is courted by a soldier. Moreover, her parents arrange for her marriage to the prodigal son of a landowner. But who does Isabella really love? Not this macho soldier nor this bashful prodigal son. No, it's the mysterious Zorro, a kind-hearted and gentlemanly fugitive. And after many twists and turns, the true identity of Zorro is finally revealed . . .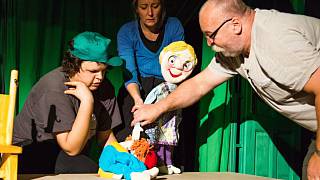 Divadlo Alfa
Renowned for its arts and culture as well as historical towns that include several UNESCO World Heritage Sites, the Czech Republic also boasts a long and rich tradition of puppetry. The city of Pilsen is particularly famed as a center of Czech puppetry, producing such respected talents as the puppet artist Josef Skupa and the puppet-maker and film director Jiří Trnka. The Pilsen-based Divadlo Alfa, also known as Alfa Theatre, is the greatest of Czech puppetry companies, captivating audiences around the world with its incredible artistry and entertaining style. Alongside a repertory of traditional Czech performances, it continues to create entirely new shows based on source material from other cultures including Shakespeare and Pushkin.
Presented by ROHM Theatre Kyoto (Kyoto City Music Art Cultural Promoting Foundation), Kyoto City
In cooperation with PUK Puppet Theatre
Supported by the Ministry of Culture of the Czech Republic
Special Sponsor: ROHM Semiconductor
Contact
ROHM Theatre Kyoto TEL.075-746-3201
Tickets
Ticket Prices
Unreserved seating Adults: ¥2,500 Children (4–18): ¥1,000 Ages 3 and below: Free 1 Adult + 1 Child Pair Tickets: ¥3,000 On sale: Saturday 19 June 2021