PROGRAM
『Voyage』(2002年) (C)KazuoFukunaga
The much-anticipated first new work in 18 years by the legendary and world-renowned multimedia performance group Dumb Type
Comprising a diverse membership drawn from video, visual art, architecture, design, computer programming, Dumb Type was founded in 1984 and has since established a reputation at home and abroad for its multimedia performances and installations whose main creative figures and approaches shift each time. This performance marks its first new work since "Voyage" in 2002.
Information
2020.3.28 (SAT) – 3.29 (SUN)
Saturday 28th March 19:00
Sunday 29th March 15:00
Venue : South Hall
About
Member
Takayuki FUJIMOTO, Ken FURUDATE, Satoshi HAMA, Marihiko HARA, Yuko HIRAI, Ryoji IKEDA, Nobuaki OSHIKA,
So OZAKI, Ryo SHIRAKI, Norico SUNAYAMA, Shiro TAKATANI, Yoko TAKATANI, Mayumi TANAKA, Hiromasa TOMARI, Misako YABUUCHI, Aoi YAMADA, Toru YAMANAKA, Yukiko YOSHIMOTO
design :Takuya MINAMI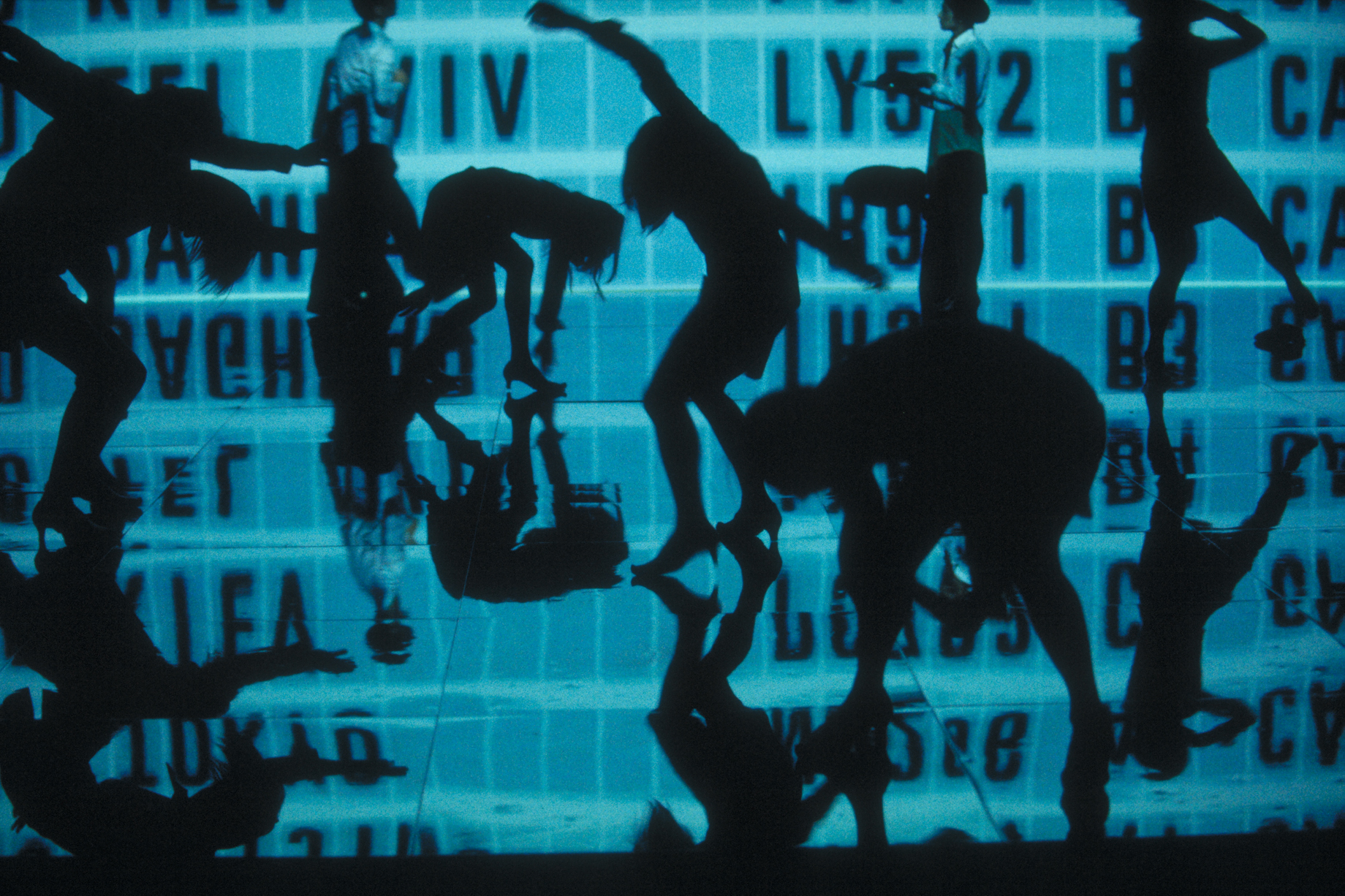 Dumb Type
Formed in 1984, Dumb Type is a group of artists comprised of members from various fields such as visual art, video, computer programming, music and dance. Based in Kyoto, participating members vary from project to project and works produced are unconstrained by existing genres, introduced at home and abroad as multimedia art that crosses all kinds of forms of expression. In parallel with performances, they also create installation works and in 2018 their solo exhibition "DUMB TYPE: ACTIONS + REFLEXIONS" was held at Pompidou Centre Metz (France). An updated version of this exhibition with new works and archive materials opened at the Museum of Contemporary Art Tokyo in November 2019 and continues until February 2020. 
Management by Dumb Type, ROHM Theatre Kyoto
Produced by ROHM Theatre Kyoto
Thanks to: TAKENAKA Co Ltd(a symunity company)
Co-sponsored by The Saison Foundation
Organised by KYOTO STEAM – International Arts × Science Festival – Executive Committee
Participating Organisations: Kyoto City / Kyoto City University of Arts / Kyoto City Kyocera Museum / Kyoto City Zoo /
(Public) Kyoto City Arts Culture Association / (Public) Kyoto City Music Arts Culture Promotion Foundation / (Public)
Kyoto Advanced Technology Research Institute / Kyoto Chamber of Commerce / Kyoto Keizai Doyukai / Japan
Broadcasting Corporation Kyoto Broadcasting Station / Kyoto Shimbun / Kyoto Okazaki Ashiya Shoten
Contact
ROHM Theatre Kyoto TEL:075-746-3201
Tickets
Ticket Prices
Reserved Seating.
Adult 5,000 yen.
Youth (under 25 years old) 2,500 yen.
* ID must be presented upon admission for Youth tickets.
* Please contact ROHM Theater Kyoto in advance about wheelchair accessibility.
* Preschool age children are not allowed.
*Latecomers admitted after the performance starts may not be able to take their originally assigned seats.

Pre-release
2020.1.11 (SAT)
Online membership of ROHM Theatre Kyoto and Kyoto Concert Hall
Tickets on Sale
2020.1.18 (SAT)

Tickets Available from
ROHM Theatre Kyoto Online Tickets

ROHM Theatre Kyoto Box Office

[TEL.075-746-3201 (everyday 10:00-19:00)]

Kyoto Concert Hall Box Office

[TEL.075-711-3231 (10:00~17:00 closed on 1st and 3rd Mondays, and the following Tuesday in case 1st or 3rd Monday is a national holiday) ]