PROGRAM
©Julian Mommert

©Julian Mommert

©Julian Mommert
Light and darkness that coexist, the surrealistic and dream-like spacetime
With the effective use of water that is the source of space in Greek mythology and the source of life, INK invites the audience to the ancient mythical moments. Releasing one's instincts and rationality, and the inner battle to control oneself and the other. The poetic world of Dimitris Papaioannou, filled with the surrealistic aesthetics, is to be unfolded. INK was created under the lockdown in 2020 during the coronavirus pandemic, through a fulfilling creative process in which two performers, Dimitris Papaioannou and Šuka Horn, from different generations and backgrounds have met. Please enjoy this stage, which is simple but integrates science-fiction elements and is condensed with fantastical expressions that are unique to Papaioannou.
Information
2024.1.18 (THR) – 1.21 (SUN)1.18 (THR) 7pm
1.19 (FRI) 7pm *Post-performance talk with Dimitris Papaioannou
1.20 (SAT) 2pm
1.21 (SUN) 2pm
House opens 30 minutes before the start of performance.

Venue : South Hall
Performance Time:Approximately 65 minutes with no interval
About
Cast & Creative Team
Created (Concept, Direction, Sets, Costumes, Lights) by Dimitris Papaioannou
Performed by Dimitris Papaioannou and Šuka Horn
Profile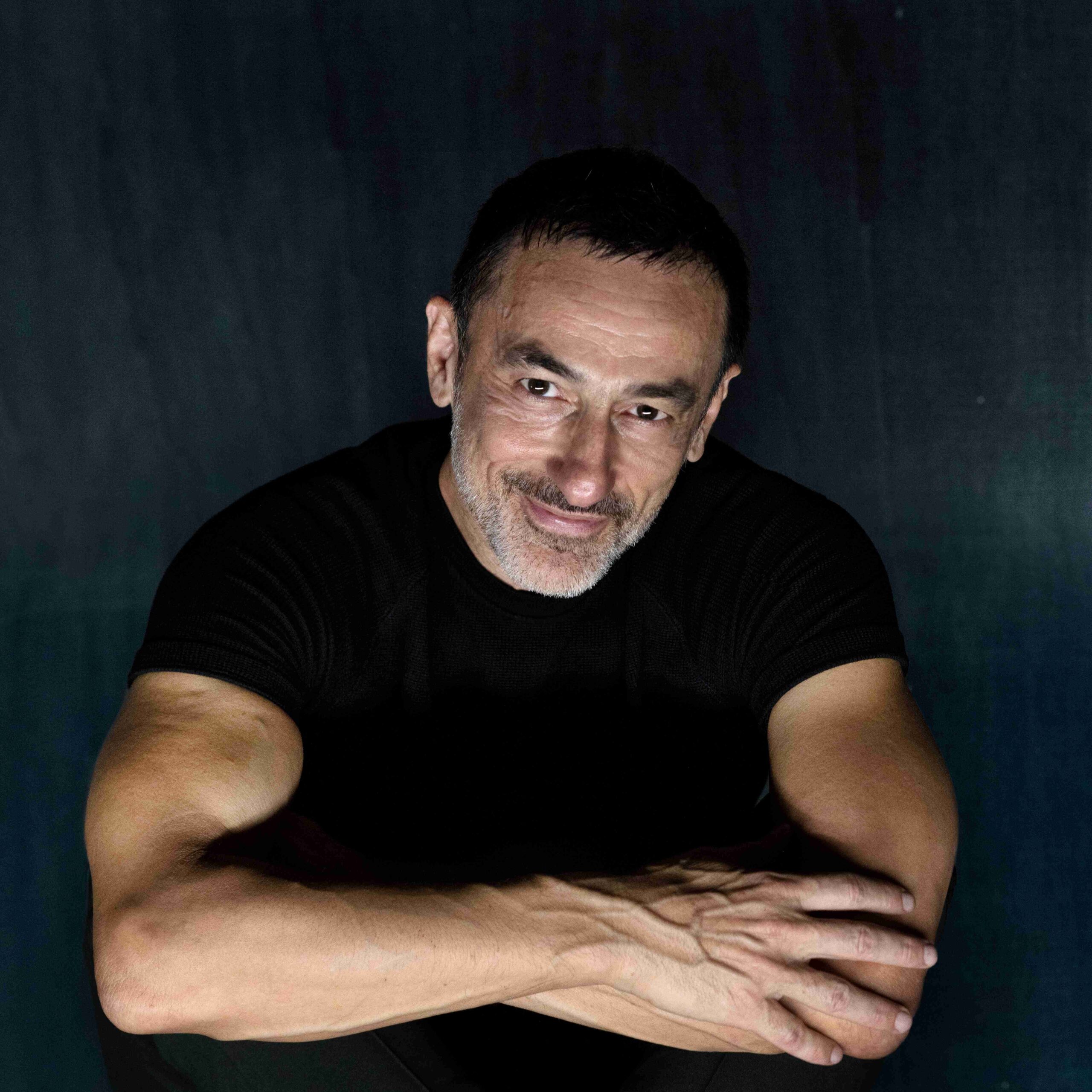 ©Julian Mommert
Dimitris Papaioannou
Director and choreographer. Born in 1964, Dimitris Papaioannou started his career as a visual artist and, prior to achieving fame in the performing arts as a director, choreographer, stage designer, and performer, was internationally known as a painter and comic book artist. He studied dance in New York and founded his own company in 1986, after which he developed a unique style of performance fusing physical theatre, experimental dance, and performance art. He came to global attention when he served as artistic director for the opening and closing ceremonies of the 2004 Summer Olympics in Athens. In May 2018, Papaioannou choreographed and directed Since She for the Tanztheater Wuppertal Pina Bausch, which was the first new work presented by the company since the death of its founder. In 2019, he staged his first production in Japan, THE GREAT TAMER. In June 2021, he premiered TRANSVERSE ORIENTATION, which was nominated for Best New Dance Production at the 2022 Laurence Olivier Awards and has been staged in over twenty countries, including Japan.
Presented by ROHM Theatre Kyoto (Kyoto City Music Art Cultural Promoting Foundation),Kyoto City

Supported by The Agency for Cultural Affairs, Government of Japan through the Japan Arts Council

With the support of Dance Reflections by Van Cleef & Arpels

sponsored by Embassy of Greece in Japan
Contact
ROHM Theatre Kyoto Box Office TEL.075-746-3201
Tickets
Ticket Prices
1F: ¥6,000 / 2F: ¥5,000 / 25 and Under: ¥3,000 / 18 and Under: ¥1,000
*No admission permitted for pre-school children. Those aged 12 and under should be accompanied by their guardians.
* Proof of age is required for the holders of 25-and-Under and 18-and-Under tickets.
Pre-release
2023.9.16 (SAT)

Tickets on Sale
2023.9.23 (SAT)

Tickets Available from
ROHM Theatre Kyoto Online Tickets

ROHM Theatre Kyoto Box Office

[窓口・電話 TEL.075-746-3201(10:00~17:00、年中無休 ※臨時休館日等により変更の場合あり)]

Kyoto Concert Hall Box Office

[TEL.075-711-3231 (10:00~17:00 closed on the 1st and the 3rd Mondays, and the following Tuesday in case 1st or 3rd Monday is a national holiday) ]
Ticket Pia
Accessibility
Accessibility
We have the following support for the audience.
■For the audience members using wheelchairs
There are limited number of seats for wheelchairs available for this performance. Please also consult us about the helpers' seats.
For application and inquiry: ROHM Theatre Kyoto Box Office TEL.075-746-3201
Accessible parking space and accessible toilet room are also available, as well as rental wheelchairs.
For application and inquiry: ROHM Theatre Kyoto TEL.075-771-6051
Babysitting Services
Childcare is available for audiences with young children so that they can better enjoy performances. Information on how and when to reserve will be available here.
Service provider: Smile Life Kyoto Office
Dates and time of service:
(1) From 130pm to 15 minutes after the end of performance on Saturday 20th January
(2) From 130pm to 15 minutes after the end of performance on Sunday 21st January
Closing dates of application:
(1) Saturday 13th January
(2) Sunday 14th January
Number of children: Because of limited space to look after children, we can only accept a certain number of applications. Please note that we will stop accepting applications before the above dates when all the places are filled up.
For ages: from 3 months up to school age
Fee: ¥1,000 (per person and performance)
*Please pay the fee on site.
*Please inform us in case of cancellation. The fee will still be charged for cancellations within a week before the day of service.
*Please call ROHM Theatre Kyoto 075-771-6051 for looking after children at school age and any inquiry after the closing date.
■Application form (Japanese only)
https://pro.form-mailer.jp/fms/11be436d283306
*Once the application is complete, an e-mail will be sent to you from Smile Life Kyoto Office. This may take few days. If you do not receive an e-mail before the closing date, please call the following number.
For inquiries and applications by phone, please call 075-343-6787 from 9am to 6pm on weekdays and Saturdays.