PROGRAM
©Julian Mommert

©Julian Mommert

©Julian Mommert
Marking his third production in Kyoto, Dimitris Papaioannou returns with a play for two in which he performs himself.
The Greek choreographer and director Dimitris Papaioannou brings his work back to Kyoto. INK was created under lockdown in 2020 during the coronavirus pandemic and these performances at ROHM Theatre Kyoto are the only chance for audiences in Japan to catch it.

A deceptively simple work performed by a cast of two (including Papaioannou himself), it is filled with all his typically poetic and fantastical style. Enter the unique, surreal world of Papaioannou where darkness and fantasy coexist.
Information
2024.1.18 (THR) – 1.21 (SUN)Further details TBA January 2024
Venue : South Hall
About
Staff & Cast
Cast & Creative Team
Created (Concept, Direction, Sets, Costumes, Lights) by Dimitris Papaioannou
Cast: Dimitris Papaioannou, etc.
Profile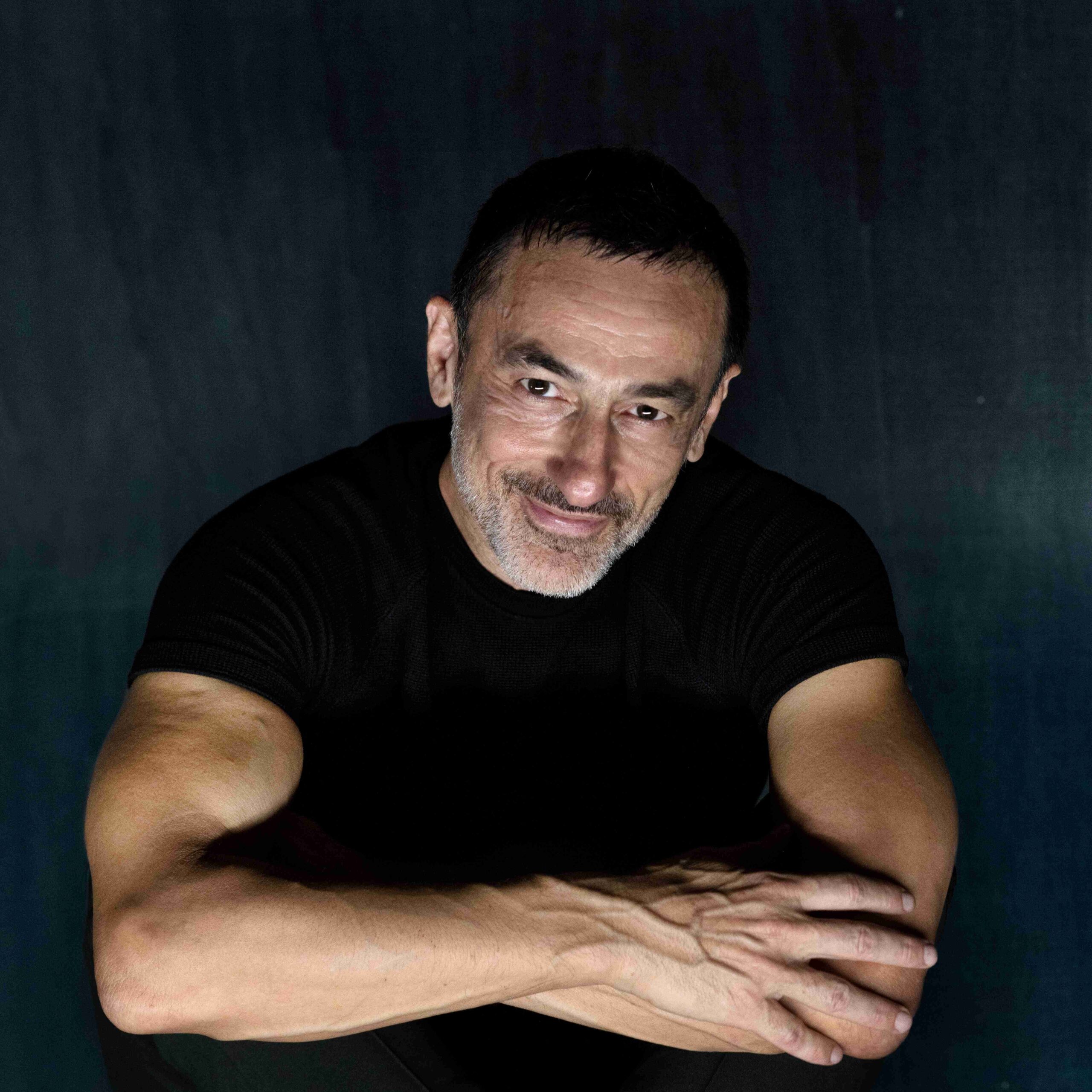 ©Julian Mommert
Dimitris Papaioannou
Director and choreographer. Born in 1964, Dimitris Papaioannou started his career as a visual artist and, prior to achieving fame in the performing arts as a director, choreographer, stage designer, and performer, was internationally known as a painter and comic book artist. He studied dance in New York and founded his own company in 1986, after which he developed a unique style of performance fusing physical theatre, experimental dance, and performance art. He came to global attention when he served as artistic director for the opening and closing ceremonies of the 2004 Summer Olympics in Athens. In May 2018, Papaioannou choreographed and directed Since She for the Tanztheater Wuppertal Pina Bausch, which was the first new work presented by the company since the death of its founder. In 2019, he staged his first production in Japan, THE GREAT TAMER. In June 2021, he premiered TRANSVERSE ORIENTATION, which was nominated for Best New Dance Production at the 2022 Laurence Olivier Awards and has been staged in over twenty countries, including Japan.
Please follow ROHM Theatre Kyoto's basic rules on measures against COVID-19.
Here(Japanese Only)
Notes related to COVID-19
Presented by ROHM Theatre Kyoto (Kyoto City Music Art Cultural Promoting Foundation),Kyoto City

Supported by The Agency for Cultural Affairs, Government of Japan through the Japan Arts Council
Contact
ROHM Theatre Kyoto TEL.075-746-3201
Tickets
Ticket Prices
1F: ¥6,000 / 2F: ¥5,000 / 25 and Under: ¥3,000 / 18 and Under: ¥1,000
Pre-release
2023.9.16 (SAT)

Tickets on Sale
2023.9.23 (SAT)

Tickets Available from
ROHM Theatre Kyoto Online Tickets

ROHM Theatre Kyoto Box Office

[窓口・電話 TEL.075-746-3201(10:00~17:00、年中無休 ※臨時休館日等により変更の場合あり)]

Kyoto Concert Hall Box Office

[TEL.075-711-3231 (10:00~17:00 closed on the 1st and the 3rd Mondays, and the following Tuesday in case 1st or 3rd Monday is a national holiday) ]
Babysitting Services
Childcare Service
Childcare is available for audiences with young children so that they can better enjoy performances. Information on how and when to reserve will be available here.
For ages: from 3 months up to school age
Fee: ¥1,000 (per person and performance)
Fee may vary for certain performances.
For further information and reservations, please see each production page.
Childcare services are not available for certain performances.